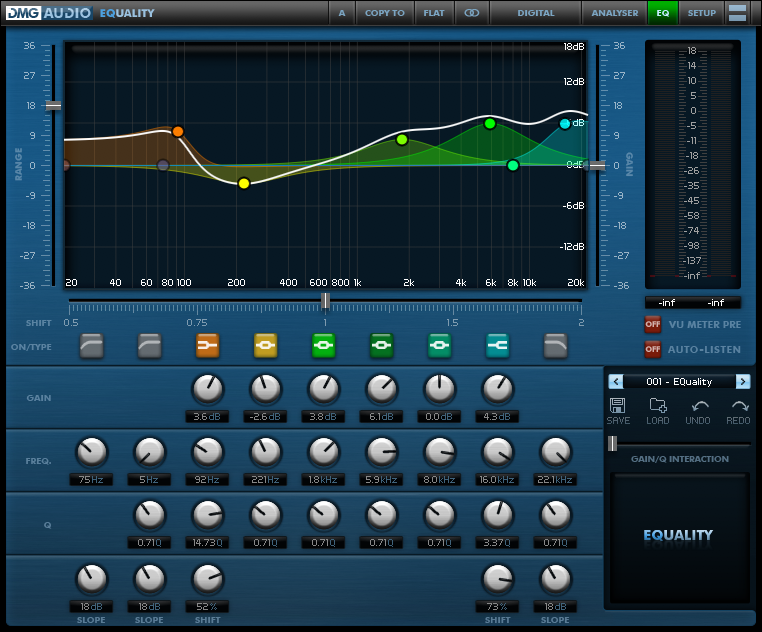 The Final Go-To EQ
EQuality has been designed to be the perfect EQ to let your mixdowns shine. Something for every track of your session. For it to sound at least as good as any high-end console or rack gear, and with all the features and functionality that digital brings.
This is the best mix EQ ever built, but don't take our word for it - test the claim and download the demo!
AAX-DSP
Highly optimised implementation of Digital mode runs on HDX systems!
Mono instances per chip: 56,42,18 at 48/96/192
Stereo instances per chip: 21,10,4 at 48/96/192
Overview
Very low CPU usage for every track of your mix
Generates super-high-quality prototypes. Clear undistorted top.
Digital+ mode; turns awesome into perfect.
Linear/Analogue/Minimum phase modes for master and special channels
6 bands, 2 shelf/bells, 4 bell/notches, Q 0.1 -> 50, +/-36dB range
2 fully parametric filters (high and low-pass), 6/12/18/24/30/36db/oct Q 0.1 -> 20
Three different UI modes to taste - full, graph and knobs.
M/S processing modes
Windows VST,VST3,VST 64,VST3 64,RTAS,AAX 32, AAX 64. Mac VST,VST3,VST 64,VST3 64,AU32+64bit,AAX 32+64bit,RTAS
Sound
Bells and notches, with a +/-36dB range, and a Q range from 0.1 to 50.
Shelves which let you move the resonance above or below the curve.
Filters at 6/12/18/24/30/36/42/48 db/octave, sweepable resonance.
Extra hi-pass, so you can remove rumble on every channel without spending a band on it.
M/S processing mode, allows you to process Mid, Side or the Stereo image.
Adjustable gain-q interaction for 'musical' usage.
Vision
Big, clear, antialiased graph
Hi-res Spectrum analyser
Range, to scale the EQ response, both +ve and -ve.
Frequency shift, to allow you to retune the response
Large, configurable spectrum-analyser with readout
Control linking for all EQ parameters
Configurable VU, supporting K-metering and variable ballistics
8 banks of A/B
Full preset management system
Undo/redo
Autolisten mode, for quick finding/adjustment of frequencies
Flat button on UI for rapid reset
Clip LED
AAX-DSP Support requires ProTools 10.3.4/11 or newer.
Windows System Requirements
Vista / Windows 7 / Windows 8 / Windows 10
32bit or 64bit
ProTools 7 or newer.
A host that supports VST or VST3, such as:

Steinberg Cubase
Steinberg Nuendo
Steinberg Wavelab
Sony ACID Pro
Ableton Live
Cockos Reaper
Magix Sequoia
Magix Samplitude
AudioMulch
Mac OS System Requirements
OS X 10.7 or newer, including Mojave (10.14)
Intel Mac
ProTools 7 or newer.
A host that supports VST, AU or VST3, such as:

Apple Logic (32bit or 64bit)
Apple Garageband
Steinberg Cubase
Steinberg Nuendo
Ableton Live
Specifically not supported (might work, but I can't test/support these platforms): Windows 95/98/XP, OS X 10.0,10.1,10.2,10.3,10.4,10.5,10.6
1.29 -> 1.30
Fix 32bit Carbon UIs on OSX
1.28 -> 1.29
Update AU validation.
Allow all AUs to use Cocoa UIs on 32bit mac.
Improve speed of session recall for AUs.
Fix mousewheel on 2nd screens.
Improve pagetable mappings for S6 controllers.
1.27 -> 1.28
Fix handling of preferences.
1.26 -> 1.27
Fix bug with AAX automation whereby discrete parameters could jump.
Fix bug with mousewheel on windows to left of main screen on windows.
Improve determinism of automation when rendering.
Improve handling of OS load dialog for presets.
Improvements for latency reporting both realtime and offline.
Fix AAX DSP automation.
Fix AAX DSP license handling.
1.25 -> 1.26
Faster load/save times.
AAX DSP Support!
Older changes on the EQuality page.
I've been building EQs for nearly a decade. From Focusrite to Sonalksis, I've learned a lot about EQs; how they should sound, how they should work, and I'd always wanted to build an EQ from the ground up, incorporating everything I've learned.
When I first started telling people I was going to do this, the response was a mixture of encouragement, tempered against the question "why do we need another EQ?". I'm pleased to tell you that now, at the end of the development process, everyone who asked that question has their answer. It's an answer that's hard to explain in words, and much much easier to find by just using the plugin. You can click the installer and the "send demo" link, and find out right now.
Most people have quite a collection of EQs - some are models of hardware, some are workhorse EQs for surgical correction, or for guiding a track into a mix, some are for mastering. First off, EQuality is not a model of a specific piece of hardware; it's more ambitious than that. EQuality aims to be a great replacement for all your EQs. That's been the driving factor.
From the bottom up, EQuality sounds as good as an EQ can sound. By that, I mean the prototypes are as close to the consistent analogue shapes as can be achieved digitally, without spending extra CPU. When you want to spend extra CPU to close the deal, you can do that too, but so far not many people have reported finding occasions where the difference is perceptible.
From the top-down, EQuality is designed to allow you to make it work the way you want it to. At every stage, we've sought out any idiosyncrasies in the design, and replaced them with solutions that make sense, and with options to allow you to have things the way you need them.