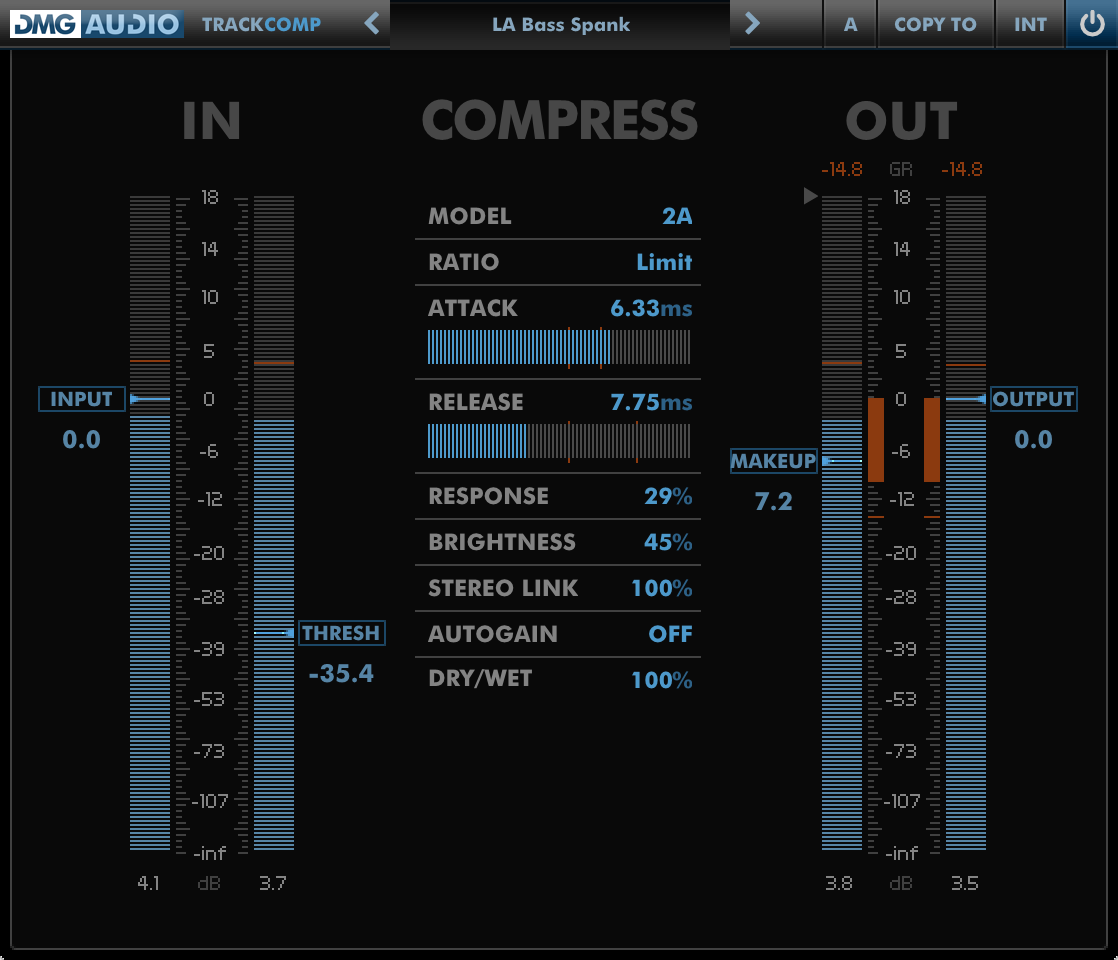 Mix Compression. Sorted.
Nine Compressors spanning the history of pro-audio.
Filthy and distorted to invisible and clean; tubes, optos, FETs, transistors and VCAs.
The tool you need for every session. Have a listen: download the demo.
Features
Revision A and D of the classic 76 FET compressor
British (G-Bus) and American (2k5) VCA bus compressors
2A Opto compressor with lush valve output stage
Zener Comp/Limiter
160 early VCA comp for drums
British E-channel console compressor
Mini Compassion!
Realtime SPICE simulation of hardware units
Common hardware mods like Sidechain filter and Response
Zero-latency
Quick, simple, ergonomic interface
Windows VST, VST3 and AAX as 32+64bit, RTAS 32bit
Mac VST, VST3, AU and AAX as 32+64bit, RTAS 32bit
Sound
Authentic end-to-end models with distortion and all
Digital compressor with variable curves based on Compassion
Classic compression sounds of the last 50 years
Controls to calibrate the plugin to match and replace hardware
Vision
Simple, streamlined interface
Mac Retina and Windows HiDPI support
Autolisten for configuring filters
Freely resizable
The sound of the past meets an interface for the future
Windows System Requirements
Vista / Windows 7 / Windows 8 / Windows 10
32bit or 64bit
ProTools 7 or newer (RTAS and AAX Native)
A host that supports VST or VST3, such as:

Steinberg Cubase
Steinberg Nuendo
Steinberg Wavelab
Sony ACID Pro
Ableton Live
Cockos Reaper
Magix Sequoia
Magix Samplitude
AudioMulch
Mac OS System Requirements
Mac OS 10.7 or newer. For 10.7 and 10.8 use the Intel 32/64 Mac Combined Installer on the Downloads page.
Intel or Apple Silicon Mac
ProTools 7 or newer (RTAS and 64-bit AAX Native, 32-bit AAX is not supported on Mac OS). For RTAS use the Intel 32/64 Mac Combined Installer on the Downloads page.
A host that supports VST, AU or VST3, such as:

Apple Logic (32bit or 64bit)
Apple Garageband
Steinberg Cubase
Steinberg Nuendo
Ableton Live
2.09 (2023-10-30)
Fix Zener model gain reduction when Calibration set very low.
Fix stereo link when oversampling enabled.
Fix incorrect latency on re-opening a project in Studio One.
Fix latency reporting in VST3.
2.08 (2023-04-03)
AAX Apple Silicon support.
2.07 (2022-11-23)
Fix VST3 bundle structure for architecture on Windows.
2.06 (2022-11-03)
Fix 2k5 FB/FF parameter showing incorrect setting.
Fix incorrect latency on re-opening a project in Ableton Live.
Fix crash when moving between insert slots in Logic.
Fix UI positioning in Reaper when window size is smaller than plug-in UI size.
Fix duplicated preset data in VST3 preset file.
VST3 can replace VST2 in Cubase/Nuendo 12 if missing or no longer supported.
2.05 (2022-03-28)
Remove 32 bit AAX support on Mac.
Improve parameter automation response at start of item if inserted as a Take FX in Reaper.
2.04 (2021-06-22)
Fix attack/release not scaling with oversampling.
Add oversampling latency if either real-time or offline oversampling is enabled to avoid timing issues in hosts that ignore change in latency for offline rendering (Pro Tools, Logic).
Fix potential incorrect parameter recall with VST3 in Bitwig.
Fix uninstaller location on Windows.
Fix DPI scaling on Windows in apps that are not per-monitor aware.
2.03
Revert jumpstarting 2A gain reduction on calling resume.
Fix plugin not processing automation during silence when VST3 "suspend in silence" option is enabled in Cubase/Nuendo.
Fix UI sizing on Windows when application is set to override DPI scaling.
Fix updating of track controls assigned to MIDI CCs in Reaper with VST3 version.
Fix potential crash when instancing VST3 version in Harrison Mixbus.
Update to new style load/save dialogs on Windows and fix initial path.
Fix background colour of meters.
Fix incorrect VST2 plugin window size with DPI scaling on Windows if host uses effEditGetRect flag (e.g. Tracktion Waveform and Max/MSP).
Peak readouts are now sample accurate.
Fix text entry box position when zoomed in Logic.
2.02
Fix potential crash when using different plugin formats in the same project.
Autogain improvement.
2.01
Fix potential crash when double-clicking to enter value as text.
Fix potential crash when closing window whilst resuming playback.
Fix potential crash when switching models.
Output level compensation for 2A model for sessions and presets saved with v1.02 or previous.
Fix startup GR on 160 model.
GR meter zoom state stored with preset/session.
Fix MIDI learn in VST3 version.
Jumpstart 2A gain reduction on calling resume, to prevent gain jump on starting transport in AU version.
2.00
Added global resizing
Added global oversampling
Added four new hardware models!
1.05
Improved HiDPI support
Fix 2A model output phase
Support VST2 getEffectName for some rare hosts
1.04
Fix AU validation in old not-really-supported versions of Logic
Reaper key entry improvements
HiDPI support in Cubase and Studio One on Windows
Improvements with discrete parameters drag/mousewheel
New LA2A output stage with more accurate implementation of brightness (works correctly with oversampling)
Markers draw improved
1.03
New and improved 76D model. More accurate, lower CPU usage. Existing 76D instances will reload using the older model; reselect the 76D model to update
Oversampled output stage for 2A model
Fix denormals in side chain EQ
Fix setting current AB bank on loading a preset
Warn user if 76D or 2A data files are missing.
Mac build now requires 10.7 or later
Improve menu position when opening a menu would cause it to appear offscreen
AAX Mac window focus improved
Fix potential crash when file saving fails
Fix crash when closing UI with text box open
Fix crash with text entry on touchbar MacBook Pro
Fix potential crash when closing UI
Prevent Cubase/Nuendo right-click menu from appearing when right-clicking on a clutter bar button that accepts right-clicks
Support for mono->stereo AU
Installer searches for existing VST plugins folder for 64-bit plugins on Windows if run for first time
Correctly sign Windows installers with Codesigning cert
Improve text and layout for Windows installers
Improve install descriptions and logo for Mac installers
1.02
Fix GR metering in mono instances
Fix "manual" sidechain listen mode
Fix very obscure crash loading in Logic X
Make slider behaviour smoother
Remove spurious DC bias in 76D mode (resolves issues with excessive distortion)
Report correct version number in Cubase VST2
Fix ProTools crash when selecting Ext sidechain but none is routed
Jumpstart resource loading to prevent weirdness in ProTools
Alt-mousewheel on snap-to sliders will cycle through values.
Extend E-Channel release time, and mark hardware ranges.
Flatten low-end response for 76D (assume higher input impedance on interface)
Jumpstart 2A GR to minimise pops when switching models
Manual edits
Improve 2A attack behaviour
Support VST3 GR meter in Studio One
1.01
Add Q-Bias to 76 to allow calibrating aggression!
Rework 76 to avoid breakup
Rework 76 to implement proper hardware stereo linkage (prevents distortion on wide signals)
Prevent DC noise when adjusting 76 threshold
Fix issue with 2A compression
Fix linked GR metering
Added Sidechain filter for E-Channel
Fix vertical alignment of some text labels
Q-Bias/2A text in manual
Keep UI working when automating to empty Model settings
Redraw the red bars OVER the sliders
Stop grabbing keys in Logic X
Fix recall of A/B bank as displayed on UI
Persist GR zoom across UI open/close
TrackComp
TrackComp is a compressor designed for musicians, producers and mix engineers.
It has comparatively low CPU usage, zero latency, a streamlined workflow and features a collection of analogue and digital compressors.
The units included are:
DMG (Digital compressor)
E-channel (British console channel compressor)
G-bus (British console bus compressor)
76D (Revision D FET compressor)
2A (1960s valve and opto compressor)
76A (Revision A FET compressor)
160 (Very early VCA compressor)
Zener (Zener diode-bridge compressor)
2k5 (American VCA stereo bus compressor)
The phrase "SPICE simulation" commonly refers to using physics to predict the behaviour of a circuit, using a particular mathematical strategy. It is a method for circuit simulation that forms the foundation of the tools that electronic engineers use for design.
Our approach has been to optimise SPICE for real-time usage; typically a simulation takes between ten and a hundred times as long to execute as the audio it is processing. We are very proud to have optimised implementations that typically run at <1% CPU core usage on modern processors.
Typically hardware modelling relies on the expertise of the designer to match the unit. SPICE instead creates a mathematical description of the unit from the circuitry itself, yielding a result as accurate as physics. This means we can capture all behaviours of the hardware.
In cases where the hardware had stepped controls, we have implemented these exactly, but in some cases also allow you to pick between switch settings to increase functionality.