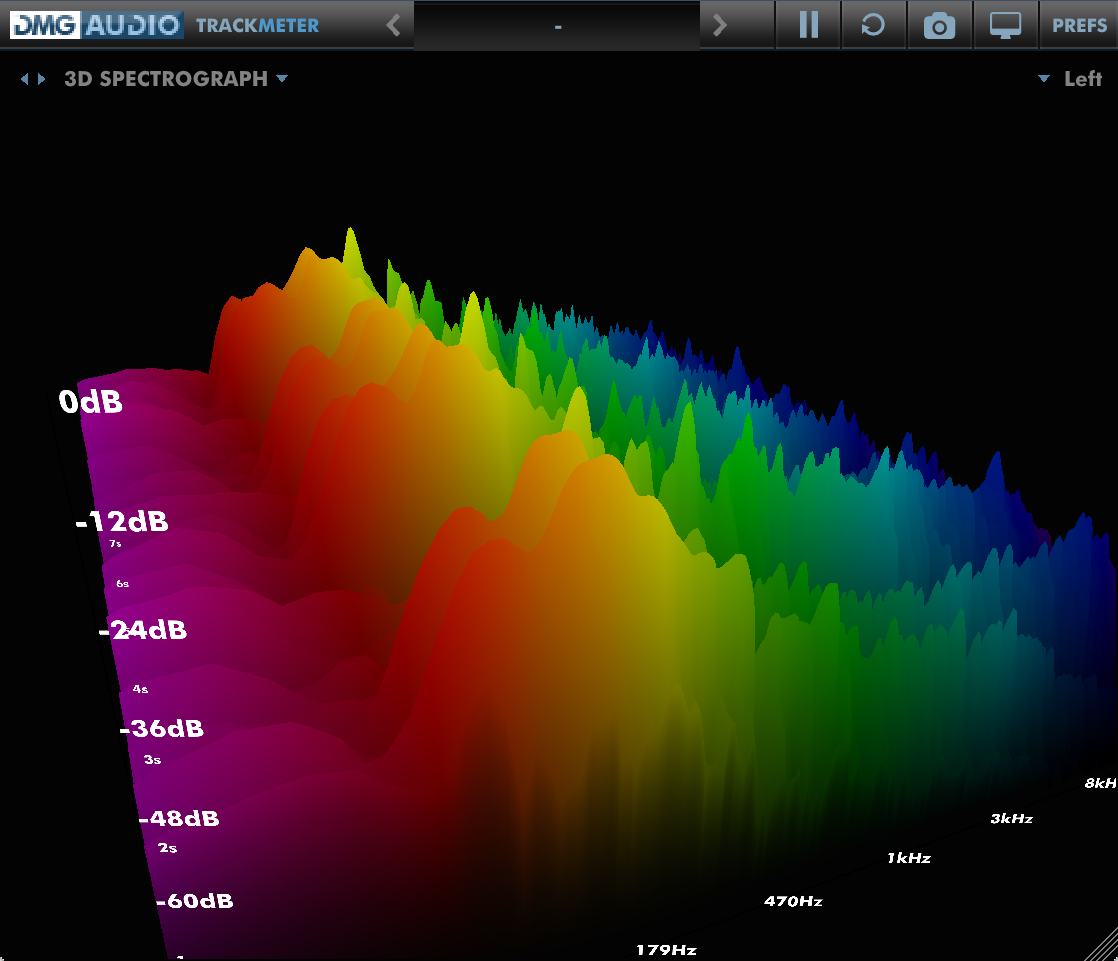 Modern Metering
A set of freely resizable graphs covering every studio use-case we've ever heard of.
TrackMeter provides a full set of beautiful, responsive graphs for audio monitoring, metering and visualisation.
Want to see more? Click to download the demo.
Features
Fully featured FFT Spectrum Analyser.
Octave, 1/3rd Octave and 1/12th Octave displays.
2D and 3D Spectrographs.
Lissajous and Oscilloscope displays.
Phase Meter and Correlation Meter.
1/3rd Octave RMS Analyser.
Phase Spectrum analyser.
Chromatic tuner.
ITU1770 Short-Term loudness history and histogram display.
Full ITU1770 / EBU r128 / ATSC A/85 loudness metering support.
Full-screen mode and PNG screenshots.
Freely-resizable UI.
Mac Retina support.
Windows VST, VST3 and AAX as 32+64bit, RTAS 32bit
Mac VST, VST3, AU and AAX as 32+64bit
Windows System Requirements
Vista / Windows 7 / Windows 8 / Windows 10
32bit or 64bit
ProTools 7 or newer (AAX Native)
A host that supports VST or VST3, such as:

Steinberg Cubase
Steinberg Nuendo
Steinberg Wavelab
Sony ACID Pro
Ableton Live
Cockos Reaper
Magix Sequoia
Magix Samplitude
AudioMulch
Mac OS System Requirements
Mac OS 10.7 or newer. For 10.7 and 10.8 use the Intel 32/64 Mac Combined Installer on the Downloads page.
Intel or Apple Silicon Mac
ProTools 7 or newer (64-bit AAX Native, 32-bit AAX is not supported on Mac OS).
A host that supports VST, AU or VST3, such as:

Apple Logic (32bit or 64bit)
Apple Garageband
Steinberg Cubase
Steinberg Nuendo
Ableton Live
TrackMeter uses OpenGL2. Most graphics cards work fine. Integrated Intel graphics may perform poorly.
1.13 (2023-10-30)
Fix latency reporting in VST3.
1.12 (2023-04-03)
AAX Apple Silicon support.
1.11 (2022-11-23)
Fix VST3 bundle structure for architecture on Windows.
1.10 (2022-11-03)
Fix incorrect loudness values at sample rates other than 44100.
Fix crash when moving between insert slots in Logic.
Fix UI positioning in Reaper when window size is smaller than plug-in UI size.
Fix duplicated preset data in VST3 preset file.
VST3 can replace VST2 in Cubase/Nuendo 12 if missing or no longer supported.
1.09 (2022-03-28)
Add option to superpose L and R scope displays.
Fix graph frequency labels not updating after reducing project sample rate.
Remove 32 bit AAX support on Mac.
Improve parameter automation response at start of item if inserted as a Take FX in Reaper.
1.08 (2021-06-22)
Fix menu bar graphics issues when UI zoomed.
Add "Sync Delay" pref to allow re-aligning waveform to bar/beat lines if placed after plug-ins that incur latency.
Add "Hold" sync option which refreshes the scope display once every sync period.
Add option to fade background lines in scope.
Add option to hide labels on scope.
Fix swapped B and R channels on 2D Spectrograph.
Fix potential incorrect parameter recall with VST3 in Bitwig.
Fix uninstaller location on Windows.
Fix DPI scaling on Windows in apps that are not per-monitor aware.
1.07
Fix scaling of freq labels for 2d spectrograph when X scrolling selected.
Fix 2D Spectrograph upward scrolling with short duration.
Fix crash when using graph prefs box right-click menu.
Fix graphs not drawing if UI left closed for very long period of time.
Fix UI sizing on Windows when application is set to override DPI scaling.
Added option to display musical note data in FFT analyser readout.
Fix potential crash when instancing VST3 version in Harrison Mixbus.
Update to new style load/save dialogs on Windows and fix initial path.
Move loudness metering from draw thread to processing thread, for metering when rendering offline.
Fix incorrect VST2 plugin window size with DPI scaling on Windows if host uses effEditGetRect flag (e.g. Tracktion Waveform and Max/MSP).
1.06
Fix potential crash when using different plugin formats in the same project.
Fix fade in 2d Spectroscope when scroll set to X.
1.05
Added Tilt parameter for RMS meter.
Upward scrolling option for 2D spectroscope.
Correlation meter defaults to 1, not 0.
Loudness meter and loudness history data persists and is updated in background when switching between big size and full screen graphs.
If full-screen graph is open, graph type and routing in the small plugin window can be set independently, allowing viewing of two different graph types on a multi-screen display.
Fix correct screen number showing in full-screen screen select menu.
1.04
Improved HiDPI support
Fix HiDPI fullscreen
Support VST2 getEffectName for some rare hosts
1.03
Fix AU validation in old not-really-supported versions of Logic
Reaper key entry improvements
HiDPI support in Cubase and Studio One on Windows
Improvements with discrete parameters drag/mousewheel
1.02
Pass key presses through to DAW when in full screen mode
Background brightness preferences added
Scope correctly aligns to bar position when sync mode on
Options for increased scope sync length up to 16 bars
Added zoom for lissajous meter
Added smoothing for FFT analyser
Added option to configure range of loudness meters
Added option to loudness meters for larger text readout/smaller meters
Keep graph type and routing in sync when switching in and out of full screen
Scope trigger bar now visible
Fix crash after long period of use
Mac build now requires 10.7 or later
Improve menu position when opening a menu would cause it to appear offscreen
AAX Mac window focus improved
Fix potential crash when file saving fails
Fix crash with text entry on touchbar MacBook Pro
Fix potential crash when closing UI
Support for mono->stereo AU
Remove RTAS versions from OSX installer
Installer searches for existing VST plugins folder for 64-bit plugins on Windows if run for first time
Correctly sign Windows installers with Codesigning cert
Improve text and layout for Windows installers
Improve install descriptions and logo for Mac installers
1.01
OpenGL improvements
Reduce graphics overheads
Improve text editing on 64bit mac
Fix bug with rare crash when MIDI learning
Improve VST3 automation
Add check for AU mono case.
Improve calliper sliders.
Improve preset handling
Improve Zoomed GR scaling
Improve mousewheel handling on windows
Accept ',' as well as '.' for numeric entry
Improve preset extension handling on windows
Improve keyboard handling
Support VST3 GR metering in Studio One
Improve automation resolution in Logic X
Fix VST3 double-precision sidechaining in Wavelab 9
Antialiasing
Horizontal Spectrograph
Fix FFT modes with scrollbar, so you can adjust.
Correct RMS readout in Level metering
Overhauled Scope!
TrackMeter
After designing Dualism, we had a lot of requests for a freely-resizable graphing plugin.
So here it is - we've slimmed down the UI, and simplified the setup, but kept the beautiful graphs.
Quick, easy and freely customisable, TrackMeter provides a one-stop solution for all your metering needs!