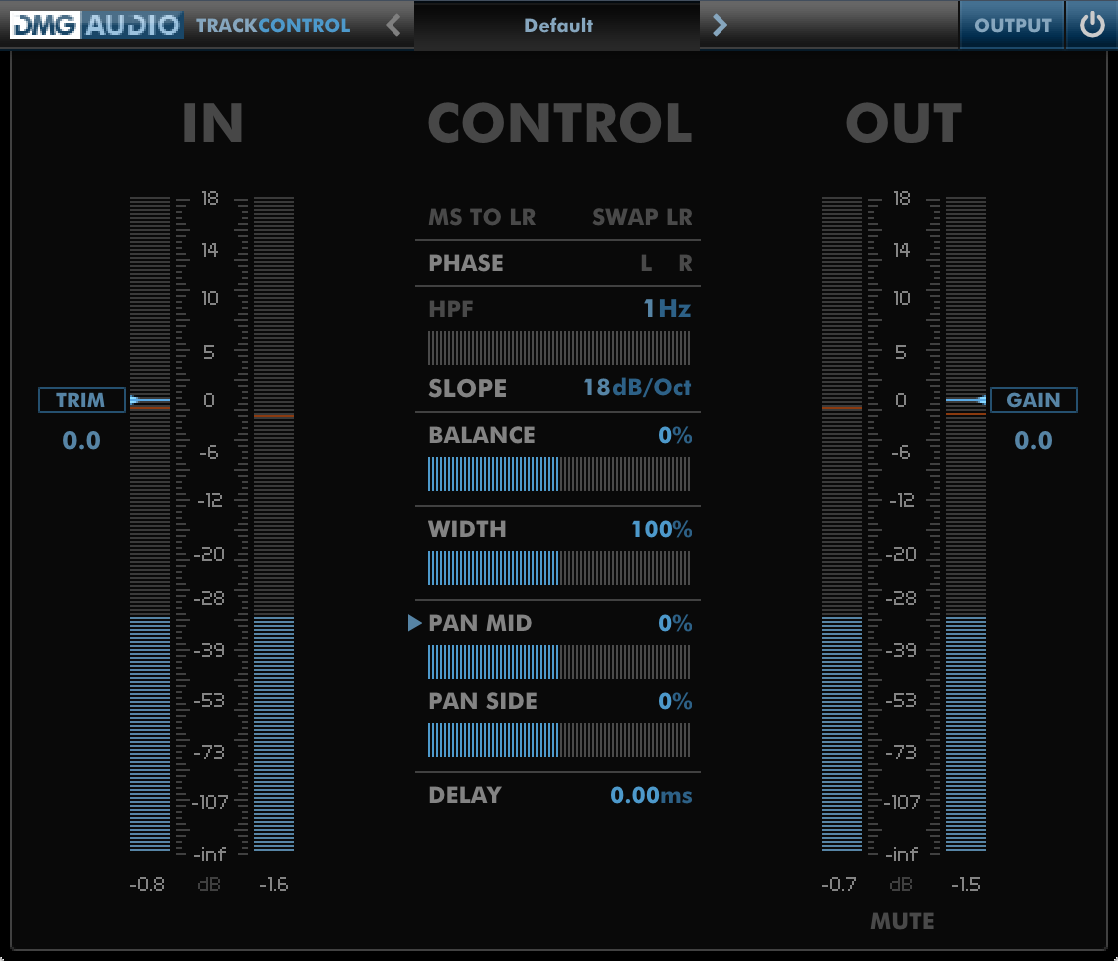 Everything, in one place.
All the utilities from the top and bottom of a console channel.
Plus MS Panning, time compensation and more. Oh, and it's completely free.
Create a DMGAudio account or log in, and there it is.
Features
Free for anyone with a DMGAudio account
Fully equipped stereo toolkit
M/S encode and decode
M/S and L/R Panning
Stereo Width control
Channelstrip input controls for Phase and LR Swap
High-pass filter with adjustable frequency and slope
Delay both forward and backward in time (on hosts with PDC)
Windows VST, VST3 and AAX as 32+64bit, RTAS 32bit
Mac VST, VST3, AU and AAX as 32+64bit, RTAS 32bit
Windows System Requirements
Windows XP / Vista / Windows 7 / Windows 8 / Windows 10
32bit or 64bit
ProTools 7 or newer.
A host that supports VST or VST3, such as:

Steinberg Cubase
Steinberg Nuendo
Steinberg Wavelab
Sony ACID Pro
Ableton Live
Cockos Reaper
Magix Sequoia
Magix Samplitude
AudioMulch
Mac OS System Requirements
OS X 10.5 or newer, including Mojave (10.14)
Intel Mac
ProTools 7 or newer.
A host that supports VST, AU or VST3, such as:

Apple Logic (32bit or 64bit)
Apple Garageband
Steinberg Cubase
Steinberg Nuendo
Ableton Live
Specifically not supported (might work, but I can't test/support these platforms): Windows 95/98, OS X 10.0,10.1,10.2,10.3,10.4
1.00 -> 1.01
Fix MS decoder! (automatically corrects old sessions)
OpenGL improvements
Reduce graphics overheads
Improve text editing on 64bit mac
Fix bug with rare crash when MIDI learning
Improve VST3 automation
Add check for AU mono case.
Improve calliper sliders.
Improve preset handling
Improve Zoomed GR scaling
Improve mousewheel handling on windows
Accept ',' as well as '.' for numeric entry
Improve preset extension handling on windows
Improve keyboard handling
Support VST3 GR metering in Studio One
Improve automation resolution in Logic X
Fix VST3 double-precision sidechaining in Wavelab 9
TrackControl
Large-format console users are used to having certain things to hand at the top and bottom of every channel.
Inside the box, those things are sometimes spread around or missing. TrackControl brings them back and puts them in one place.
All the MS trickery, stereo width, MS panning, HPF, Phase, Gains all in one quick interface.
And it's free for anyone with a DMGAudio account (which are also free).