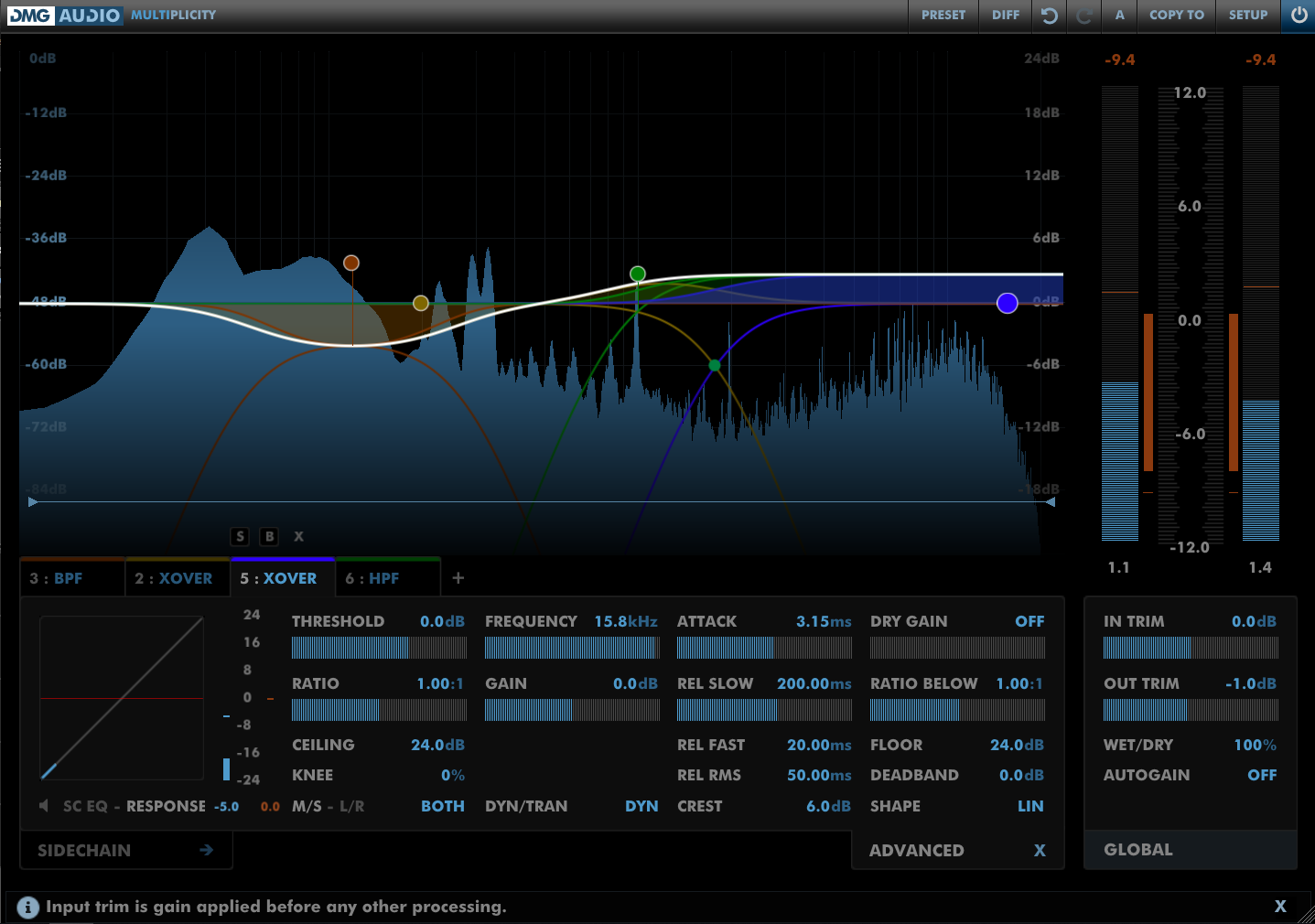 A step forward for precision mastering.
Multiband compression, expansion, gating, dynamic EQ, the lot.
Whether repairing or enhancing a signal, Multiplicity gives you a degree of control that isn't possible with anything else.
Take a deep breath and then download the demo.
Features
8 bands of crossover and dynamic EQ.
Dual-stage dynamic handling separates transients and dynamics.
Dual-timing release. No more pumping.
Beautiful, minimalist user interface.
Bit-transparent linear phase crossover and band-splitting.
Extensive graphing and feedback.
Windows VST, VST3 and AAX as 32+64bit
Mac VST, VST3, AU and AAX as 32+64bit
Sound
Ratios above and below threshold with independent floor and ceiling.
Full MS/LR linkage and targetting for sidechain and processing.
Global and per-band gain staging.
Per-band dry gain for parallel processing.
Per-band dual-stage release with configurable RMS detection and crest factor.
Per-band adjustable lookahead.
Per-band adjustable dynamics character.
External sidechain input.
Configurable oversampling for realtime and render.
3-band sidechain EQ per band.
ITU-1770 based autogain, allowing you to work at a fixed perceptual level.
Vision
Spectrum analyser for crossover configuration.
Per-band dynamics graph.
Per-band sidechain EQ graph.
Per-band metering of sidechain PPM and GR.
Per-parameter linking, locking and MIDI Learn functionality.
Instance and per-band presets.
Freely-resizable UI.
Mac Retina support.
Full undo/redo support.
8 A/B banks.
Configurable zoomable PPM and GR meters.
Windows System Requirements
Vista / Windows 7 / Windows 8 / Windows 10
32bit or 64bit
ProTools 7 or newer (AAX Native)
A host that supports VST or VST3, such as:

Steinberg Cubase
Steinberg Nuendo
Steinberg Wavelab
Sony ACID Pro
Ableton Live
Cockos Reaper
Magix Sequoia
Magix Samplitude
AudioMulch
Mac OS System Requirements
Mac OS 10.7 or newer. For 10.7 and 10.8 use the Intel 32/64 Mac Combined Installer on the Downloads page.
Intel or Apple Silicon Mac
ProTools 7 or newer (64-bit AAX Native, 32-bit AAX is not supported on Mac OS).
A host that supports VST, AU or VST3, such as:

Apple Logic (32bit or 64bit)
Apple Garageband
Steinberg Cubase
Steinberg Nuendo
Ableton Live
Multiplicity runs best with OpenGL2. Most graphics cards work fine. Integrated Intel graphics may perform poorly.
1.13 (2023-10-30)
Add option to turn off frequency analyser.
Fix incorrect latency on re-opening a project in Studio One.
Fix latency reporting in VST3.
1.12 (2023-04-03)
AAX Apple Silicon support.
1.11 (2022-11-23)
Fix VST3 bundle structure for architecture on Windows.
1.10 (2022-11-03)
Fix crash on opening GUI.
Fix dynamic EQ bands at same frequency not being sanitized if converted to Xover bands.
Shift-Alt-click EQ graph background to reset analyser.
Fix incorrect latency on re-opening a project in Ableton Live.
Improve parameter display text reported to host for discrete parameters.
Fix crash when moving between insert slots in Logic.
Fix UI positioning in Reaper when window size is smaller than plug-in UI size.
Fix duplicated preset data in VST3 preset file.
VST3 can replace VST2 in Cubase/Nuendo 12 if missing or no longer supported.
1.09 (2022-03-28)
Fix AR stage when using Ratio Below.
Sanitise crossover frequencies when setting via automation or from control surface, or when switching a band from DynEQ to XOVER.
Extra checks for band order validity when loading a preset.
Remove 32 bit AAX support on Mac.
Improve parameter automation response at start of item if inserted as a Take FX in Reaper.
1.08 (2021-06-22)
Fix text entry of inverse ratios.
Fix potential incorrect parameter recall with VST3 in Bitwig.
Fix uninstaller location on Windows.
Fix DPI scaling on Windows in apps that are not per-monitor aware.
1.07
Fix incorrect latency in Reaper if HQ split used whilst rendering from render queue and plugin inserted as Take FX.
Improved updating of bandsplit EQ IRs.
Fix plugin not processing automation during silence when VST3 "suspend in silence" option is enabled in Cubase/Nuendo.
Fix UI sizing on Windows when application is set to override DPI scaling.
Fix updating of track controls assigned to MIDI CCs in Reaper with VST3 version.
Fix potential crash when instancing VST3 version in Harrison Mixbus.
Update to new style load/save dialogs on Windows and fix initial path.
Fix crash in iZotope RX8 when processing a mono file.
Wrap mouse when editing controls if mouse hiding enabled.
Fix incorrect VST2 plugin window size with DPI scaling on Windows if host uses effEditGetRect flag (e.g. Tracktion Waveform and Max/MSP).
Peak readouts are now sample accurate.
Fix text entry box position when zoomed in Logic.
Fix mouse hiding not working on Windows after entering a parameter as text.
Fix early switching from release to attack in log mode.
1.06
Fix potential crash when using different plugin formats in the same project.
Fix VST2 crash in Wavelab
1.05
Fix potential crash when double-clicking to enter value as text.
Fix parameter MIDI learned state not being indicated after closing and reopening window.
Fix for no processing/metering with VST3 in Sequoia if no side chain source selected in host.
FFT analyser now shows separate L (lighter blue) and R (darker blue) channels.
If autogain is enabled, it will not trigger on loading a session until a parameter is changed.
Improved undo of mouse wheel action.
Fix MIDI learn in VST3 version.
Fix crash when undoing preset load after closing and reopening UI.
1.04
Fixed resizing bug
Improved HiDPI support
Support VST2 getEffectName for some rare hosts
1.03
Fix AU validation in old not-really-supported versions of Logic
Reaper key entry improvements
HiDPI support in Cubase and Studio One on Windows
Improvements with discrete parameters drag/mousewheel
Fix crash on open/close
1.02
Grouped undo when editing parameters for multiple selected bands or for sanitised crossover frequencies
Undo/redo incorporates loading of presets and banks
Fix to set program name from filename when loading a preset or bank via the open/save dialog
Added global preference to disable VST gestures, for the case where begin/end edit calls to host are processed slowly
Correctly reinstate prev/next buttons status on opening window or loading a session
Fix crash when loading 32-bit Mac version
Mac build now requires 10.7 or later
Improve menu position when opening a menu would cause it to appear offscreen
AAX Mac window focus improved
Fix potential crash when file saving fails
Installer searches for existing VST plugins folder for 64-bit plugins on Windows if run for first time
Correctly sign Windows installers with Codesigning cert
Improve text and layout for Windows installers
Improve install descriptions and logo for Mac installers
1.01
Extended Ratios and Ranges parameter in Advanced DSP
Fix for incorrect LOG behaviour. New parameter to allow LOG to function correctly for both compression and expansion. Defaults to on, but will set to off with old presets, so no session changes
Fixes for latency issues
Fix crash in iZotope RX on load
Fix major bug with tooltip display which may have been causing crashes
Extra safety checks with graphics code
Improve latency reporting (for bug in Live with ext synths)
Group undo for many operations, including grouped adjustments and preset loads
Alt-drag box on graph to zoom in
Typo in tooltip
Allow toggling wet/dry and shape with click on text
Pref for simplified numeric display
Support better mousewheel in tooltip boxes
Note-display of frequency with shift+ctrl/shift+cmd click
Show full-length preset names
Parameter name inconsistencies
The Multiplicity Story
I think it's fair to say that it's taken me a long time to find a design for a multiband processor I really believe worthwhile. Multiband designs are necessarily complicated and all too often the remedy is to reduce the degree of control on offer. I think our design manages to avoid this pitfall, so you can get great sounding results without having to compromise.
It's always been true that multiband and dynamic EQ are related in terms of how they're used and what they achieve, but it's taken a lot of consideration to achieve a synthesis of the two that works. Our strategy has been to observe and analyse the needs of mastering engineers and to design around that whilst offering further opportunities. Moreover, dynamics processing has been quietly evolving over the last few years and being able to address issues with transients has become especially important for achieving the necessary degree of control.
One of the major elements that made our limiter (Limitless) so successful was its ability to differentiate between transients and dynamics and apply different processing to each case. In Multiplicity we've taken things a step further. Without the requirement to limit peaks we are able to achieve a far greater depth of control over the results.
I have an ambition that it should be possible to master entirely in software and in doing so achieve better results, by obviating the need to transfer through converters. As such, our design needed to be able to outperform the regular analogue outboard units in both euphony and control. There are often scenarios where the material benefits from a particular character of processing, so we've designed Multiplicity to allow tuning the character to taste.
In the heyday of Apple the most exciting announcements were the "one more thing..." moments, where our expectations were suddenly exceeded with news of something new and unexpected. The hope with Multiplicity is to replicate that excitement with a series of "one more thing..." features. It's multiband... and also dynamic EQ. It's a dynamic processor... and also it allows detailed transient control. It's a compressor... and an expander... both above and below the threshold... independently. It has adjustable lookahead... per band! It has adjustable crossover slope... per band!
There's no getting around the fact that Multiplicity has a lot of controls but, we've worked hard to keep them manageable. Most of the complexity comes from the new possibilities of what you can achieve with it; things that were previously only ideas or hopes. I feel it's safe to say that there are no other processors that can do what Multiplicity can do for you. We hope you find new and exciting ways of using it to open doors to new and greater things. Our beta team has been very excited about this plugin. We hope it exceeds your expectations too!
Team DMG, Jan 2019