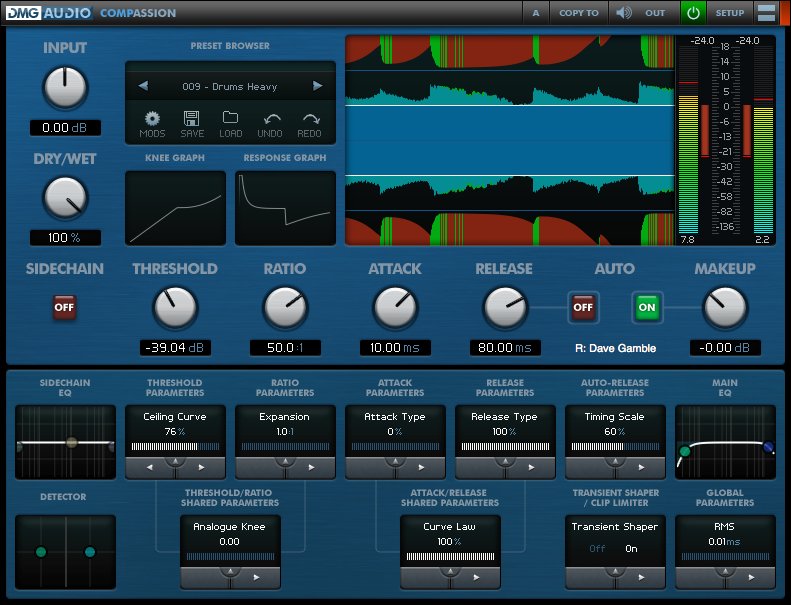 Dynamic Powerhouse
Compassion is a fully-featured dynamics processor, ready for any dynamic processing on any signal.
Behind the UI lies perhaps the most flexible dynamics engine ever designed. Any channel, any task, Compassion is ready to enable you to get the job done.
Grab the demo, see for yourself.
If EQuality and Compassion can't do what you want, you have a problem no EQ or compressor can solve!

It's the most configurable dynamics plug-in we've ever encountered...
An outstanding musical dynamics tool that's a jack of all trades and master of most. 10/10

Not since the Monolith appeared amongst the apes in 2001: A Space Odyssey, have a tribe of primates looked so bewildered with what had landed in front of them. Compassion is so much more than just another dynamics processor. It is, in fact, nothing less than an evolutionary leap forward and this is the compressor by which all others will be judged. Its flexibility and 'tweakability' warrants that this plugin should spawn its own community of modders. The extent of its possible settings could take us years to realize, but thanks to Dave, the "creative" use of compression is back on the menu and you won't need Escobar's money to buy in. In Dave We Trust.

Marc Royal
Overview
Unprecedented level of flexibility.
Multiple styles of dynamic processing available, with in-depth control.
Advanced mode for fine-tweaking, Main mode for fast usage.
Mods system for rapid configuration.
Zero latency (with lookaheads and oversampling disabled).
Low CPU usage.
Windows VST,VST3,VST 64,VST3 64,RTAS,AAX 32, AAX 64. Mac VST,VST3,VST 64,VST3 64,AU32+64bit,AAX 32+64bit,RTAS
Sound
Fully configurable topology; to sound like any compressor you want.
Compression, Expansion, Upward Expansion and Upward Compression
Wet/Dry for "New York"/Parallel Compression
Linear Phase Split EQ mode for "Dynamic EQ" processing
Fully configurable detectors with M/S processing
Transient Shaper and Clip Limiter modules.
Oversampling mode for alias-free operation.
Signal path and sidechain EQs
Vision
Large, intuitive waveform/gr display.
Knee and Response graphs.
Advanced mode, with pages for each section.
Sidechain and signalpath EQ graphs.
Configurable VU, supporting K-metering and variable ballistics
Mods system for fast workflow
8 banks of A/B
Full preset management system
Undo/redo
Clip LED
Windows System Requirements
Vista / Windows 7 / Windows 8 / Windows 10
32bit or 64bit
ProTools 7 or newer (RTAS and AAX Native)
A host that supports VST or VST3, such as:

Steinberg Cubase
Steinberg Nuendo
Steinberg Wavelab
Sony ACID Pro
Ableton Live
Cockos Reaper
Magix Sequoia
Magix Samplitude
AudioMulch
Mac OS System Requirements
Mac OS 10.7 or newer. For 10.7 and 10.8 use the Intel 32/64 Mac Combined Installer on the Downloads page.
Intel or Apple Silicon Mac
ProTools 7 or newer (RTAS and 64-bit AAX Native, 32-bit AAX is not supported on Mac OS). For RTAS use the Intel 32/64 Mac Combined Installer on the Downloads page.
A host that supports VST, AU or VST3, such as:

Apple Logic (32bit or 64bit)
Apple Garageband
Steinberg Cubase
Steinberg Nuendo
Ableton Live
1.29 (2023-10-30)
Fix slope param text reported to host.
Fix incorrect latency on re-opening a project in Studio One.
Fix latency reporting in VST3.
1.28 (2023-04-03)
AAX Apple Silicon support.
Fix mod name clearing when UI closed and reopened.
Allow shift-select of multiple boxes in mod save dialog.
1.28 (2023-01-03)
Fix EQs not working.
Fix precise/simple number format pref not working.
1.27 (2022-11-23)
Fix VST3 bundle structure for architecture on Windows.
1.26 (2022-11-03)
Fix incorrect latency on re-opening a project in Ableton Live.
Use natural sort for sorting items in the mods menu.
Improve parameter display text reported to host for discrete parameters.
Fix crash when moving between insert slots in Logic.
Fix UI positioning in Reaper when window size is smaller than plug-in UI size.
Fix duplicated preset data in VST3 preset file.
VST3 can replace VST2 in Cubase/Nuendo 12 if missing or no longer supported.
1.25 (2022-03-28)
Add Master Bypass as an automatable parameter in AAX version.
Remove 32 bit AAX support on Mac.
Improve parameter automation response at start of item if inserted as a Take FX in Reaper.
1.24 (2021-06-22)
Fix NaNs in SC-EQ LPF coefficients if set to 24kHz at 48kHz sample rate.
Fix SC Noise cutting out if level set to 0dB.
Fix potential incorrect parameter recall with VST3 in Bitwig.
Fix uninstaller location on Windows.
Fix DPI scaling on Windows in apps that are not per-monitor aware.
1.23
Fix plugin not processing automation during silence when VST3 "suspend in silence" option is enabled in Cubase/Nuendo.
Fix UI sizing on Windows when application is set to override DPI scaling.
Fix updating of track controls assigned to MIDI CCs in Reaper with VST3 version.
Fix potential crash when instancing VST3 version in Harrison Mixbus.
Fix crash when exporting or loading mod banks.
Update to new style load/save dialogs on Windows and fix initial path.
Wrap mouse when editing text controls if mouse hiding enabled.
Fix incorrect VST2 plugin window size with DPI scaling on Windows if host uses effEditGetRect flag (e.g. Tracktion Waveform and Max/MSP).
Peak readouts are now sample accurate.
Fix mouse hiding not working on Windows after entering a parameter as text.
1.22
Fix potential crash when using different plugin formats in the same project.
Fix VST2 crash in Wavelab
Fix graphics outlining in preset box on high DPI displays.
1.21
Fix potential OpenGL crash when closing window.
Fix crash when closing window and parameter being automated.
Any mod files placed in the root '/Mods' directory will no longer show up in the mods menu, they must be placed in a subfolder.
Fix text entry parameter changes not getting added to undo stack.
Improved undo of mouse wheel action.
Fix rare issue where knobs don't get drawn with some graphics cards.
1.20
Improved HiDPI support
Added OpenGL support
Support VST2 getEffectName for some rare hosts
1.19
Fix AU validation in old not-really-supported versions of Logic
Reaper key entry improvements
HiDPI support in Cubase and Studio One on Windows
Improvements with discrete parameters drag/mousewheel
1.18
Mac build now requires 10.7 or later
Improve menu position when opening a menu would cause it to appear offscreen
AAX Mac window focus improved
Fix potential crash when file saving fails
Accept ',' for decimal point when entering value by text
Fix crash when closing UI with text box open
Fix crash with text entry on touchbar MacBook Pro
Prevent Cubase/Nuendo right-click menu from appearing when right-clicking on a clutter bar button that accepts right-clicks
Support for mono->stereo AU
Installer searches for existing VST plugins folder for 64-bit plugins on Windows if run for first time
Correctly sign Windows installers with Codesigning cert
Improve text and layout for Windows installers
Improve install descriptions and logo for Mac installers
1.17
Smooth graph display
Improve text editing on 64bit mac
Improve VST3 automation
Improve mousewheel handling on windows
Improve keyboard handling
Improve automation resolution in Logic X
Support VST3 GR metering in Studio One
Fix memory leak with preset loading
Updated pagetables for Avid S6
1.16
Fix 32bit Carbon UIs on OSX
Make zoom-mode follow K-Scale on VU meters
Mousewheel allows fine adjust for Sidechain/EQ graphs
1.15
Update AU validation.
Allow all AUs to use Cocoa UIs on 32bit mac.
Improve speed of session recall for AUs.
Fix mousewheel on 2nd screens.
Improve text entry for expansion ratios.
1.14
Fix bug with AAX automation whereby discrete parameters could jump.
Fix bug with mousewheel on windows to left of main screen on windows.
Improve determinism of automation when rendering.
Improve handling of OS load dialog for presets.
Improvements for latency reporting both realtime and offline.
Fix bug with GR time-alignment when oversampled and bypassed.
1.13
Fix bug with A/B in AAX.
Fix AAX level meters.
Fix AAX GR meter.
Added extra-fine zoom for meter.
Fix issues with RTAS build.
Fix AAX bypass crash.
Fix gain instability with very short FIR Smoothing/Clip limiter settings.
1.12
Tidying and optimisation.
Reduce saved preset sizes further.
Fix crashes with undo/redo.
Fixes for Sonar.
Fix automation of discrete parameters for PT11 AAX.
Fix samplerate issues in Wavelab for VST3.
1.11
Fix bug affecting reloading of settings
Fix issues with Windows 32bit AAX and ProTools 10
1.10
Versioning display for binaries.
Significant reduction in load/save times.
All-round optimisation and tidying.
Ceased support for 10.4 and PPC. 10.5/Intel now required.
Improvements for RTAS versions.
Fix samplerate related issues for AU.
Improvements for AAX Automation.
Improvements for redraw strategy on OSX.
Improvements for UIs for AU+Cocoa.
Fix mousewheel handling on Windows.
Fix UI resizing in Live 9 Mac.
Fix crash when closing UI for Cocoa AUs
Move Windows presets to My Documents to improve Win7/8 usage.
Added warning box if file save/load fails.
1.09
Fix textboxes in Logic
Improve RTAS resizing
AAX improvements
AAX2.0 and PT11 compatibility.
1.08
Fix Detector Graph bug
AAX-AudioSuite Enabled
Fix samplerate handling for VST3 in StudioOne
AAX enable click-thru - prevents first click from being absorbed when UI is opened
AAX Bypass mechanism reworked to match RTAS version
1.07
AAX version included
Tweaks for stability
VST3 Automation improvements
Mac builds and Installers optimised and signed
Massive optimise for reload of presets.
Fix Clip-Limiter denormal issue
1.06
Fixed memory leak
Fixed potential crash in UI
Massive improvements to CPU usage with UI redraw/animation
Fix focus stealing bug on windows
Fix UI crash on mac
Invalid text entry returns controls to default values.
Fix "stuck-on" clip light in ProTools HD
Fix Win+Ctrl click for Windows ProTools
Fix AudioSuite redraw for Windows ProTools
Presets are compressed to dramatically reduce session sizes (1/50th)
Delay compensate for wet/dry when clip-limiter is pre.
No sidechain version of Compassion
1.05
Fixed textbox display, ProTools Mac RTAS.
Fix crash when switching between DMGAudio plugins in ProTools using header menu.
Fixed obscure potential crash bug.
VST3 versions support presets.
Fixed bug whereby host redraw would slow down when UI was open.
Improved AudioSuite metering and processing.
Enable Windows ProTools automation menu.
Fixed issues relating to window resizing in ProTools.
Added A/B Automation type preference.
Always report zero latency when expired/hard bypassed.
Can now right-click the A/B menu to toggle.
Clip/Limiter is now post M-S decode.
Added Limiter pre/post parameter.
Added Expander Threshold offset parameter.
Fixed issue whereby Auto-release depended on manual release parameter.
Warning: This might change sessions where autorelease is used. If so,
set auto-release short time to match manual release time.
Fixed bug whereby detectors would display incorrectly as Peak in detector graph.
Reduced memory usage by 14MB/instance. Now 3.2MB/instance.
Added Peak/Hold indicator for limiter gain reduction.
1.04
Fixed OSX 10.4 support
Fixed crash in wavelab
Fix AU resize
Fix bug whereby LP-split settings were not recalled correctly.
Enable RTAS Automation
Dezipper control changes.
Added menu to allow tabbing between advanced pages (click page-name)
Fixed Opto-mod HPF frequency
Added ProTools metering support
1.03
Improved preset naming
Fixed listen and A/B menu
Fixed reset-to-default for Advanced params
Improved CPU efficiency for oversampling
Fixed rare memory leak
Fixed A/B automation
Shift-drag for advanced sliders
Preserve latency across bypass
Improved mousewheel handling
Fixed processing in Digital Performer
Fixed ProTools Controlsurface integration
Fixed Mono AU sidechain functionality
1.00 -> 1.02
Fix: Crash in Mono mode when plugin Expired
Fix: Misprocessing of Split-EQ in Mono mode
Added: Detectors and Split Mix displayed in dB
Fix: Display of Expansion/Ratio values
Fix: Textual improvements in manual
Fix: Mousewheel for Advanced parameters
Added: Threshold bars opacity preference
Added: Save Zoom state in mods and presets
Fix: bug with saving GUI states in mods
Added: Preference for Wave Speed on main display
Added: Improved preset naming handling
Fix: Handling of LP-Split in MS mode
Fix: Numerical ordering of Mods
Fix: VST2 bypass
Fix: A/B Bank/Listen display in some hosts
Added: Split EQ "PL" (parallel) option for more efficient mastering workflow
Fix: Reset to default for Advanced parameter sliders
In designing processors, I've found that the most important thing is to understand how and why they're used. After designing EQuality, investigating Dynamics seemed an obvious next step.
One of the most important things I discovered, which may seem obvious, is that people don't just have one; each different compression task will have a unit best suited to it. So it seemed natural to develop a model of dynamic processing that included all the different schools of design, and build a unit that would allow you to get the job done, no matter what you needed to achieve.
I came up with an idea that fused measurement with circuit design. I measured different compressors, built models of the circuits and then unified all the models into one gigantic structure that could model any of them. Then I made as much of it variable as possible; so you could dial in designs in between models.
So here's Compassion; going way beyond modelling and giving you a tool that imparts massive dynamic control. I didn't stop at compression; I kept on going through gate/expanders, upwards expansion/compression, an absurdly flexible sidechain, parallel compression, frequency-conscious and frequency-specific compression (dynamic EQ style), overcompression, the ability to SHAPE your attack/release curves, a transient shaper, a hybrid clip-limiter module, the list goes on...
So there I was with the mother of all dynamics processors, with close to 100 parameters. And then the interface design work started. After months of research into how best to present information and how to structure the UI for easy workflow, the current Compassion UI was born; based on countless hours of discussion with a board of engineers about their workflow.
I think Compassion is a pretty unique processor; being able to jump so quickly between unlistenable sonic death through to the softest most delicate processing a vocal might want within a few clicks is an overwhelmingly exciting thing to have; the Mods system saving you from needing to constantly dive in to the scores of advanced settings.
- Dave Gamble 2011