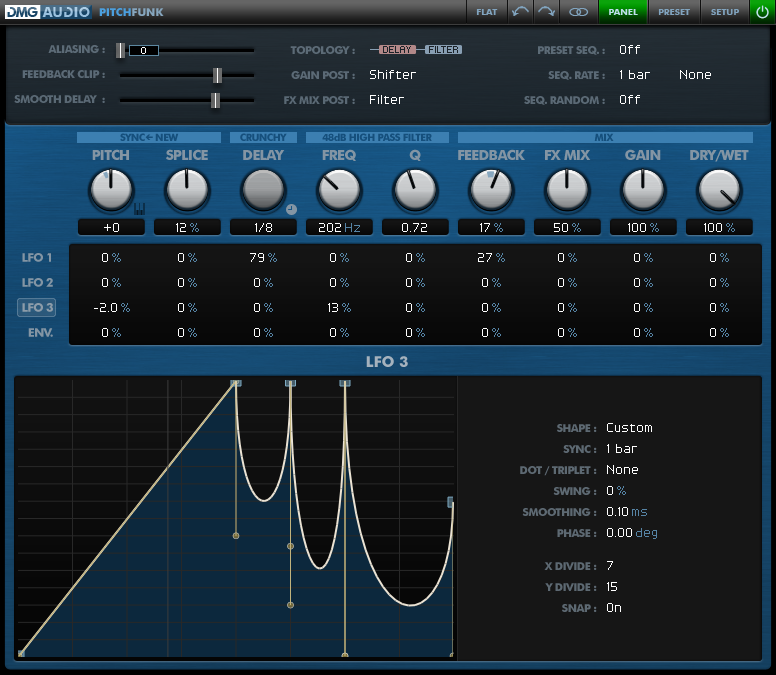 Refined Design, Monstrous Effects
Science has officially gone too far. DMGAudio PitchFunk is an audio manipulating colossus that puts into your hands a laboratory-full of sound crunching effects.
Don't let the crafted UI fool you, PitchFunk makes the filthiest noises you've never heard.
Grab the demo. It's aliiive.
A modulation-crazy curveball from DMG, PitchFunk is a veritable gift for sound designers and electronic producers. For intrepid sonic sculptors who love to noodle with filters and delays, PitchFunk is a must-have plug-in. The versatility of the modulation matrix and the bonkers results that can be achieved are successes in themselves, but beyond that, PitchFunk's complex web of signal interactions make it possible to create sounds you just couldn't get any other way.

!!!!!!!!!!!!!!!!!!!!!!!!!!!
mangler!
f*cking bonkers
jesus
LMFAO
this is sick mate

Marc Royal
Overview
Pitch Shifter feeds delay and filter with feedback to create unheard-of madness.
Lots of modulation, to keep everything moving while it's feeding back.
Makes mad, mad noises, previously unheard of, potentially frightening to children, pets and the infirm.
A barrel full of insane presets
Windows VST, VST3 and AAX as 32+64bit, 32bit RTAS
Mac VST, VST3, AU and AAX as 32+64bit, 32bit RTAS
Sound
10 pitch-shifting algorithms, based on classic hardware, optimised for modern CPUs, and extended for quality.
3 delay-line algorithms, covering vintage and modern delay lines.
Configurable topology, for control over effect routing, to get exactly the right madness.
Movable modulated gain-stage for pan/gain effects, to get things pumping and moving.
Stereo, M&S independent and L&R independent modes
Modulation
3 bezier-drawable LFOs, with swing and tempo synch
Sidechain-able enveloper follower, with extensive control
Full mod-matrix to route any source to any control
MIDI playable/pitch-bend for Pitch
Windows System Requirements
Vista / Windows 7 / Windows 8 / Windows 10
32bit or 64bit
ProTools 7 or newer (RTAS and AAX Native)
A host that supports VST or VST3, such as:

Steinberg Cubase
Steinberg Nuendo
Steinberg Wavelab
Sony ACID Pro
Ableton Live
Cockos Reaper
Magix Sequoia
Magix Samplitude
AudioMulch
Mac OS System Requirements
Mac OS 10.7 or newer. For 10.7 and 10.8 use the Intel 32/64 Mac Combined Installer on the Downloads page.
Intel or Apple Silicon Mac
ProTools 7 or newer (RTAS and 64-bit AAX Native, 32-bit AAX is not supported on Mac OS). For RTAS use the Intel 32/64 Mac Combined Installer on the Downloads page.
A host that supports VST, AU or VST3, such as:

Apple Logic (32bit or 64bit)
Apple Garageband
Steinberg Cubase
Steinberg Nuendo
Ableton Live
1.24 (2023-10-30)
Fix FX Mix Post parameter value getting stuck on Delay with VST3 version.
Fix incorrect latency on re-opening a project in Studio One.
Fix latency reporting in VST3.
1.23 (2023-04-03)
AAX Apple Silicon support.
1.22 (2022-11-23)
Fix VST3 bundle structure for architecture on Windows.
1.21 (2022-11-03)
Fix incorrect latency on re-opening a project in Ableton Live.
Improve parameter display text reported to host for discrete parameters.
Fix crash when moving between insert slots in Logic.
Fix UI positioning in Reaper when window size is smaller than plug-in UI size.
Fix duplicated preset data in VST3 preset file.
VST3 can replace VST2 in Cubase/Nuendo 12 if missing or no longer supported.
1.20 (2022-03-28)
Add Master Bypass as an automatable parameter in AAX version.
Remove 32 bit AAX support on Mac.
Improve parameter automation response at start of item if inserted as a Take FX in Reaper.
1.19 (2021-06-22)
Fix potential incorrect parameter recall with VST3 in Bitwig.
Fix uninstaller location on Windows.
Fix DPI scaling on Windows in apps that are not per-monitor aware.
1.18
Fix plugin not processing automation during silence when VST3 "suspend in silence" option is enabled in Cubase/Nuendo.
Fix UI sizing on Windows when application is set to override DPI scaling.
Fix updating of track controls assigned to MIDI CCs in Reaper with VST3 version.
Fix potential crash when instancing VST3 version in Harrison Mixbus.
Update to new style load/save dialogs on Windows and fix initial path.
Wrap mouse when editing text controls if mouse hiding enabled.
Fix incorrect VST2 plugin window size with DPI scaling on Windows if host uses effEditGetRect flag (e.g. Tracktion Waveform and Max/MSP).
Fix mouse hiding not working on Windows after entering a parameter as text.
Fix MIDI pitch bend response.
Add MTS-ESP support.
Fix text entry of negative semitone values.
Update preset menu after saving a preset.
1.17
Fix potential crash when using different plugin formats in the same project.
1.16
Fix potential OpenGL crash when closing window.
Fix blurry preset tray.
Fix crash when closing window and parameter being automated.
Improved undo of mouse wheel action.
1.15
Improved HiDPI support
Added OpenGL support
Support VST2 getEffectName for some rare hosts
1.14
Fix AU validation in old not-really-supported versions of Logic
Reaper key entry improvements
HiDPI support in Cubase and Studio One on Windows
Improvements with discrete parameters drag/mousewheel
1.13
Mac build now requires 10.7 or later
Improve menu position when opening a menu would cause it to appear offscreen
AAX Mac window focus improved
Fix potential crash when file saving fails
Accept ',' for decimal point when entering value by text
Fix crash when closing UI with text box open
Fix crash with text entry on touchbar MacBook Pro
Support for mono->stereo AU
Installer searches for existing VST plugins folder for 64-bit plugins on Windows if run for first time
Correctly sign Windows installers with Codesigning cert
Improve text and layout for Windows installers
Improve install descriptions and logo for Mac installers
1.12
Fix 32bit Carbon UIs on OSX
1.11
Update AU validation.
Allow all AUs to use Cocoa UIs on 32bit mac.
Improve speed of session recall for AUs.
Fix mousewheel on 2nd screens.
Add Sync mode for tighter pitch shifting.
C Random pattern starts from end of last sequence.
Fix preset recall.
1.10
Fix bug with AAX automation whereby discrete parameters could jump.
Fix bug with mousewheel on windows to left of main screen on windows.
Improve determinism of automation when rendering.
Improve handling of OS load dialog for presets.
Improvements for latency reporting both realtime and offline.
1.09
1.08
Tidying and optimisation.
Reduce saved preset sizes further.
Fix crashes with undo/redo.
Fixes for Sonar.
Fix automation of discrete parameters for PT11 AAX.
Fix samplerate issues in Wavelab for VST3.
Remove AAX GR meter.
1.07
Fix bug affecting reloading of settings
Fix issues with Windows 32bit AAX and ProTools 10
1.06
Versioning display for binaries.
Significant reduction in load/save times.
All-round optimisation and tidying.
Ceased support for 10.4 and PPC. 10.5/Intel now required.
Improvements for RTAS versions.
Fix samplerate related issues for AU.
Improvements for AAX Automation.
Improvements for redraw strategy on OSX.
Improvements for UIs for AU+Cocoa.
Fix mousewheel handling on Windows.
Fix UI resizing in Live 9 Mac.
Fix crash when closing UI for Cocoa AUs
Move Windows presets to My Documents to improve Win7/8 usage.
Added warning box if file save/load fails.
1.05
Fix textboxes in Logic
Improve RTAS resizing
AAX improvements
AAX2.0 and PT11 compatibility.
1.04
Fix "glitching" DSP bug
Fix delay times for samplerates other than 44k1
AAX-AudioSuite Enabled
Fix samplerate handling for VST3 in StudioOne
AAX enable click-thru - prevents first click from being absorbed when UI is opened
AAX Bypass mechanism reworked to match RTAS version
1.03
AAX version included
Tweaks for stability
VST3 Automation improvements
Mac builds and Installers optimised and signed
Massive optimise for reload of presets.
Fixed rare redraw issue
Improved Loading process
Added pagetable for ProTools automation
1.02
Improve CPU usage.
Reduce latency.
Free-run modes for LFOs.
Retriggering of LFOs.
Unipolar/Bipolar LFO modes.
Dual mode, allows processing two Stereo-mode instances in one.
Splice Scaling control for Asynch modes.
Edit Both functionality, to edit both channels in synch.
More presets!
MIDI Enable/Disable button.
Fix denormal bug with LFOs.
Improve switching between Synch and Asynch modes.
Improve handling of unusual time-signatures.
Add "resynch shifters" feature on re-selecting shift-mode.
Disabling a lock leaves control set to its value while locked.
Phase invert for Dual mode, allows phase-inverting for the second instance wet signal.
Improve scanning for LFOs - displays scan along (phase-shifted) blue image.
1.01
Fix crash with 64bit AU validation
Fix synched delay times
Fixed VST3 automation
Fixed crash when changing presets
Fixed denormal bug in 'Bit' delay algorithm
Improved 'Modern' delay algorithm
Improved CPU usage
Fixed 'paste' of LFO curves
Fixed synch of LFOs post-shifter
Enabled Audiosuite version
Dezippered Gain stage
Fixed recall of saved settings in Logic
Added more presets!
The PitchFunk
This all started as a toy project - I was ill, so doing some research. I've always been interested in the history of pitch shifters and was researching into what it was that made the classic units so special. I built a little toy which sounded great. And then, because it seemed necessary, we added feedback. And things got a little more weird. So we added a delay, and it got weirder still. And then a filter, and then variable topologies, a massive modulation section, the moveable gainstage, MS and LR independent processing, and a host of other little things that will entertain and amuse. Suddenly the toy had grown into something monstrous. It was making sounds we couldn't describe any more. So we're doing the obvious, and offering it to the world. What's the worst that can happen?
[Edit: DMGAudio is not, and will not be held responsible for the emergence of sentient systems that take control of the world and enslave the human race, requiring time-travel to resolve. There's already enough moving around in time going on in this plug. I'm staying out of this one.]