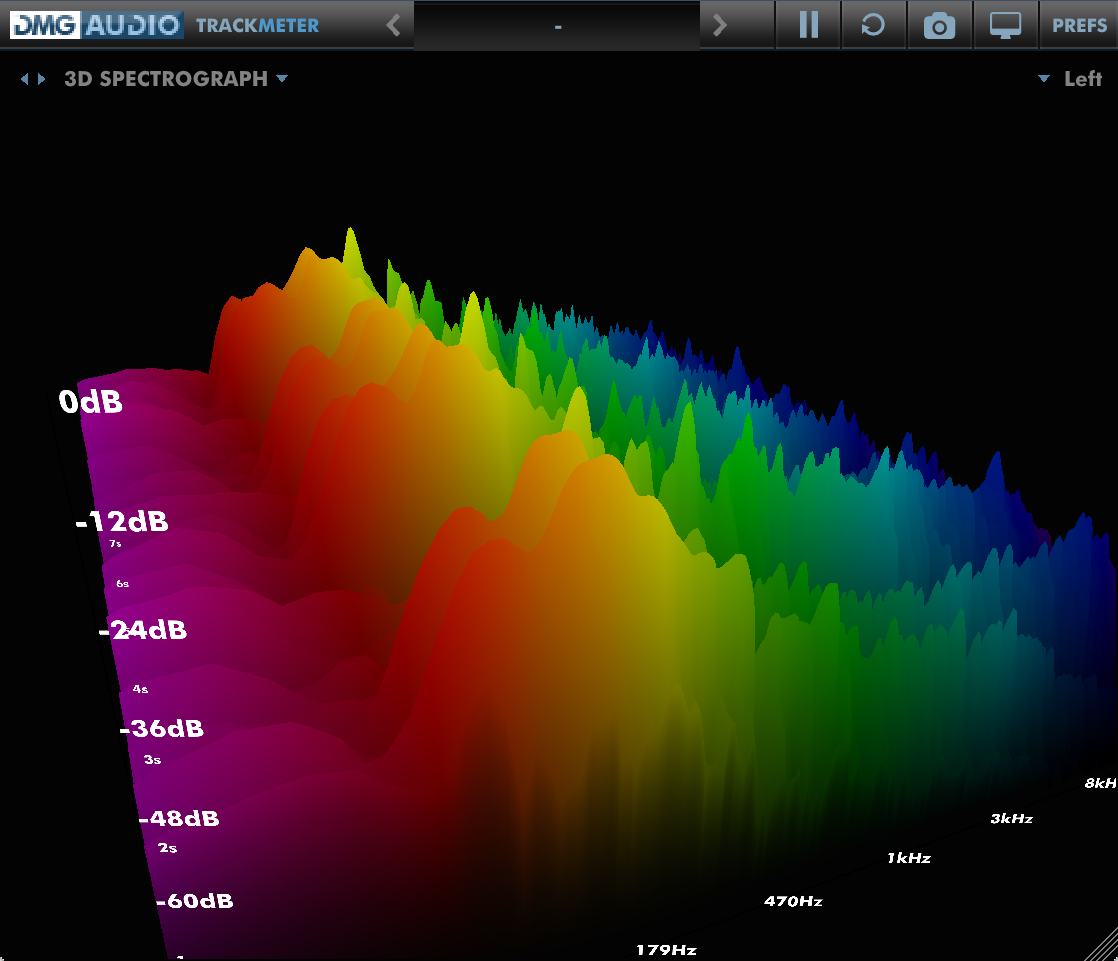 Modern Metering
A set of freely resizable graphs covering every studio use-case we've ever heard of.
TrackMeter provides a full set of beautiful, responsive graphs for audio monitoring, metering and visualisation.
Want to see more? Click to download the demo.
Features
Fully featured FFT Spectrum Analyser.
Octave, 1/3rd Octave and 1/12th Octave displays.
2D and 3D Spectrographs.
Lissajous and Oscilloscope displays.
Phase Meter and Correlation Meter.
1/3rd Octave RMS Analyser.
Phase Spectrum analyser.
Chromatic tuner.
ITU1770 Short-Term loudness history and histogram display.
Full ITU1770 / EBU r128 / ATSC A/85 loudness metering support.
Full-screen mode and PNG screenshots.
Freely-resizable UI.
Mac Retina support.
Windows VST, VST3 and AAX as 32+64bit, RTAS 32bit
Mac VST, VST3, AU and AAX as 32+64bit, RTAS 32bit
Windows System Requirements
Windows XP / Vista / Windows 7 / Windows 8 / Windows 10
32bit or 64bit
ProTools 7 or newer.
A host that supports VST or VST3, such as:

Steinberg Cubase
Steinberg Nuendo
Steinberg Wavelab
Sony ACID Pro
Ableton Live
Cockos Reaper
Magix Sequoia
Magix Samplitude
AudioMulch
Mac OS System Requirements
OS X 10.5 or newer, including Mojave (10.14)
Intel Mac
ProTools 7 or newer.
A host that supports VST, AU or VST3, such as:

Apple Logic (32bit or 64bit)
Apple Garageband
Steinberg Cubase
Steinberg Nuendo
Ableton Live
Specifically not supported (might work, but I can't test/support these platforms): Windows 95/98, OS X 10.0,10.1,10.2,10.3,10.4
Dualism uses OpenGL2. Most graphics cards work fine. Integrated Intel graphics may perform poorly.
1.00 -> 1.01
OpenGL improvements
Reduce graphics overheads
Improve text editing on 64bit mac
Fix bug with rare crash when MIDI learning
Improve VST3 automation
Add check for AU mono case.
Improve calliper sliders.
Improve preset handling
Improve Zoomed GR scaling
Improve mousewheel handling on windows
Accept ',' as well as '.' for numeric entry
Improve preset extension handling on windows
Improve keyboard handling
Support VST3 GR metering in Studio One
Improve automation resolution in Logic X
Fix VST3 double-precision sidechaining in Wavelab 9
Antialiasing
Horizontal Spectrograph
Fix FFT modes with scrollbar, so you can adjust.
Correct RMS readout in Level metering
Overhauled Scope!
TrackMeter
After designing Dualism, we had a lot of requests for a freely-resizable graphing plugin.
So here it is - we've slimmed down the UI, and simplified the setup, but kept the beautiful graphs.
Quick, easy and freely customisable, TrackMeter provides a one-stop solution for all your metering needs!