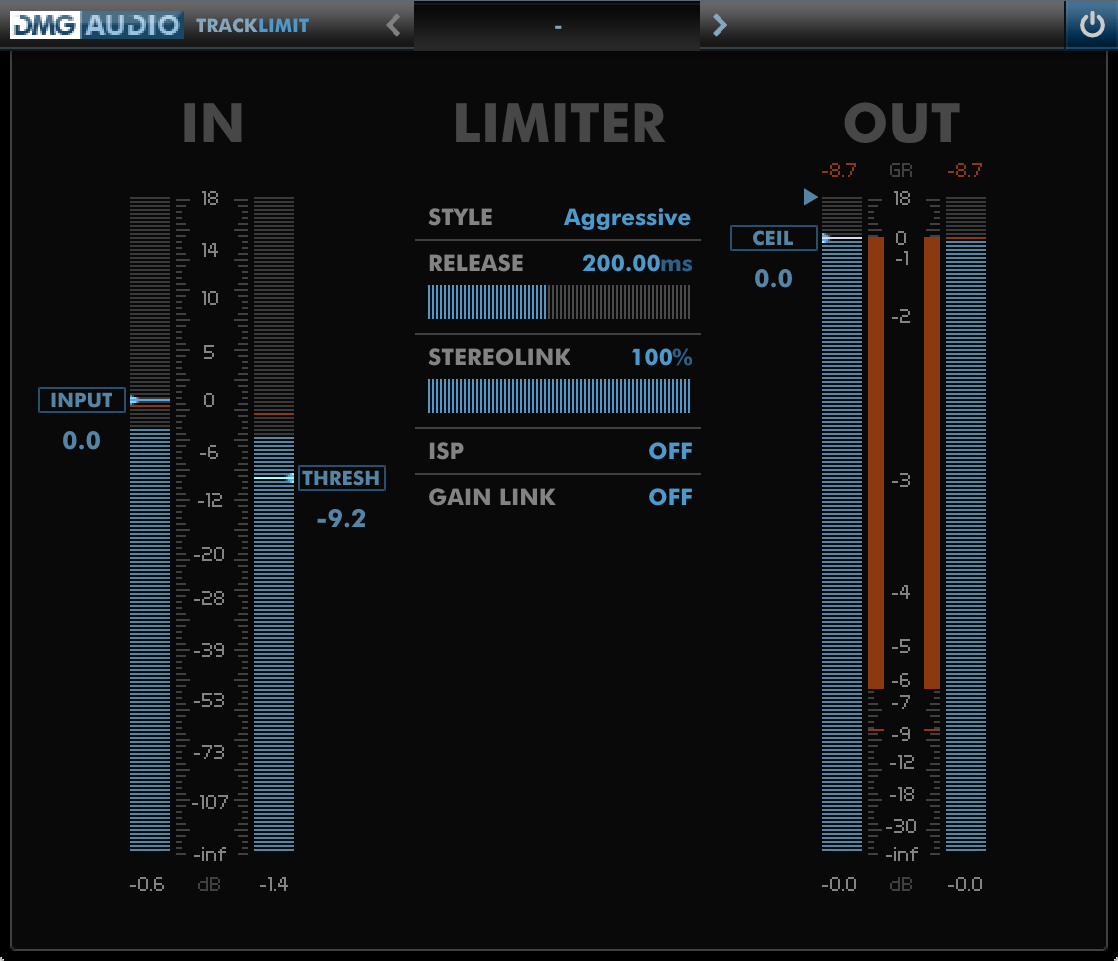 Simply Louder
TrackLimit is a fully featured wideband limiter with intelligent dual-stage handling of transients and dynamics.
Just click and drag the threshold to hear your sound come alive.
Simplicity and great sound: download the demo.
Features
State-of-the-art peak limiter with low latency and low CPU usage.
Dual-stage dynamic handling separates transients and dynamics.
Beautiful, minimalist user interface.
Inter-sample (True-) peak suppression.
Quick and easy limiting that sounds great, for tracks, busses and premasters.
Windows VST, VST3 and AAX as 32+64bit, RTAS 32bit
Mac VST, VST3, AU and AAX as 32+64bit, RTAS 32bit
Sound
Dual-stage limiting to separate dynamics and transients.
Style menu provides quick access to useful limiting characters.
Variable stereo linkage.
Full gain staging on input, limiter threshold and output ceiling.
Vision
Simple, streamlined interface.
Mac Retina support.
Gain-lock to protect gain staging whilst auditioning presets.
Zoomable PPM and GR meters.
Windows System Requirements
Windows XP / Vista / Windows 7 / Windows 8 / Windows 10
32bit or 64bit
ProTools 7 or newer.
A host that supports VST or VST3, such as:

Steinberg Cubase
Steinberg Nuendo
Steinberg Wavelab
Sony ACID Pro
Ableton Live
Cockos Reaper
Magix Sequoia
Magix Samplitude
AudioMulch
Mac OS System Requirements
OS X 10.5 or newer, including Mojave (10.14)
Intel Mac
ProTools 7 or newer.
A host that supports VST, AU or VST3, such as:

Apple Logic (32bit or 64bit)
Apple Garageband
Steinberg Cubase
Steinberg Nuendo
Ableton Live
Specifically not supported (might work, but I can't test/support these platforms): Windows 95/98, OS X 10.0,10.1,10.2,10.3,10.4
1.00 -> 1.01
OpenGL improvements
Reduce graphics overheads
Improve text editing on 64bit mac
Fix bug with rare crash when MIDI learning
Improve VST3 automation
Add check for AU mono case.
Improve calliper sliders.
Improve preset handling
Improve Zoomed GR scaling
Improve mousewheel handling on windows
Accept ',' as well as '.' for numeric entry
Improve preset extension handling on windows
Improve keyboard handling
Support VST3 GR metering in Studio One
Improve automation resolution in Logic X
Fix VST3 double-precision sidechaining in Wavelab 9
New improved ISP algorithm
Optimisations
TrackLimit
Our design goal was invisible limiting that could cover all bases, with low latency and low CPU.
You can use it to transparently snip a few dB of peak of a channel that's triggering a bus compressor when it oughtn't, or you can use it to render out an awesome-sounding premaster.
We reworked the Limitless engine into a wideband format, and then went to work reducing CPU and latency; the end result is great limiting that's simple, quick, and won't tax your CPU.